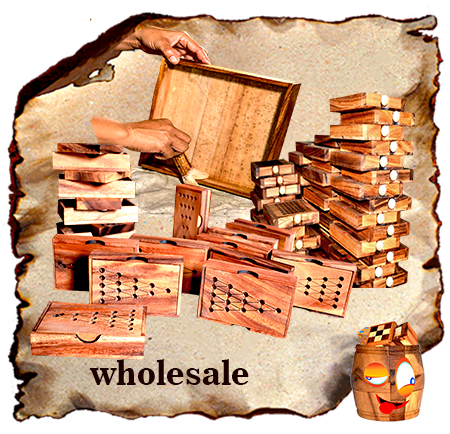 Here we have all information for wholesale and our factory prices. You want order to resell or you need a present for your clients with your logo here you can have service in that case. Download and check out the factoy order list and see all our article before we will show in online shop with our factory prices.....
We are Ting Tong Wooden Games and producing over 20 years wooden games and wooden puzzle and have clients and ship arround the world. Ting Tong Wooden Games is located in north of Thailand, in Chiang Mai, and one the manufacturer who produces and supply wooden games and toys of high quality.  Ting Tong Wooden Games has more confidence in business growth with deep rooted relationships of our suppliers, staffs and potential customers for systematically long term cooperation. We produce high quality wooden puzzles, wooden brain teasers and educational mind benders. We produce 3D and 2D interlock wooden puzzles, iq games, dice games in wood and strategy games as wooden version.  Mechanical wooden puzzles in many kinds and designs, all are handmade from natural samanea wood and make great gifts for adults and kids of all ages. We have some beautiful handcrafted wooden products in our shop online, he will open soon for wholesale clients and retrailing. The great variety of our handmade products leave any puzzle fan's heart beat high and higher! We have about 520 different wooden games and wooden puzzle and we will prepare the order in time and ready to shipping in boxes with shipping list. You can use, if you have , your own shipping partner, or we give you the best contact from our shipping partner we working last 20 years together.
If you want to order we not have any minimum order for each article, but you can choose from about 520 wooden games and wooden puzzle, somtimes in differend sizes, as you want. You can choose from all article much as you want the quantity can be variable from 20, 50 or any 100 till 1000.  All Products you find easy in different categories:
We can, if you wish, prepare the solutions for each single game and puzzle with your logo and information as you need in your country. This service we charge seperate you can finde in the orderlist. Also it is possible to make a logo on every each game and puzzle as digital print or laser print. That we have to talk about and we will also charge seperate that service.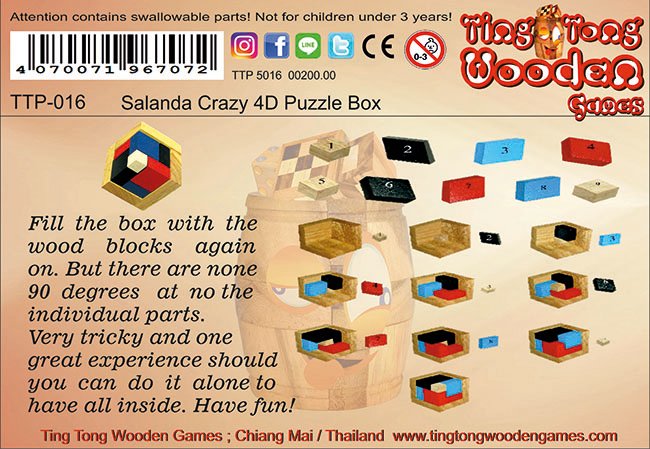 Soon we will finish with our new website to show all of our products online to order. Just we have all games already shown in webshop but for the over 350 puzzle we need some time more. If we ready with all products it will be possible to order in retail and wholsale for the factory price in our website online. Just register and let us know you want be a wholesale client we will give you acces to that level to visit our website with all wooden games we have already to see for factory prices. Sign in here:  

For now i will give you, that you have all wooden games and all wooden puzzle to choose, our factory order list.  You will get a exel file where you find all informations and games with order number size and weight. If you want, feel free to order in that list and send us back. You can register in our website and tell us you want be register and listed as wholesale member. We will give you the acces to that wholesale level and you can upload your order list as .exel or .rar file. The list will calculate the price the quantity and size and weight for shipping alone, only put in order your quantity you want to have.

download here the direct the exel file :
 
www.ting-tong-wooden-games.com/download/ting-tong-wooden-games-order-list.xls
Importand to know, we accept the order in moment you was send the 50% deposit on our account or in cash as you want. After we will start to pack your games and finish in time till your delivery date is coming.

I hope for first i was give you a short update and you have a over view. If you have any question feel free to contact me.
Feel free to contact us and have your questions

best regards
Yen Yen
phone: +66984730036
mail:  
This email address is being protected from spambots. You need JavaScript enabled to view it.
web:   
www.ting-tong-wooden-games.com
Ting Tong Wooden Games
Chiang Mai / Thailand